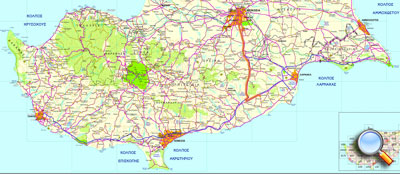 Neighboring Communities:
- Mennogia
- Αlaminos       
- Αlethriko
- Αnafotia         
- Μazotos        
- Pyrga              
- Κlavdia
- Κofinou
Having the centre of Nicosia as your starting point, head towards the southern exit of the city to enter the highway leading from Nicosia to Lemesos and start driving towards Lemesos. Drive by the highway exits of Latsia, Dali Industrial Zone, Pera Chorio Nisou, Agia Varvara, Alambra, Mosphiloti and Kornos. Head downhill towards Kofinou and enter the motorway leading from Kofinou to Larnaca. Next, from the village of Kofinou, drive towards Agglisides. From Kofinou, you should reach the community of Agglisides in less than 5 minutes.
It will take you approximately 30 minutes to reach Agglisides from Nicosia. Consult the route marked on the map in orange colour.