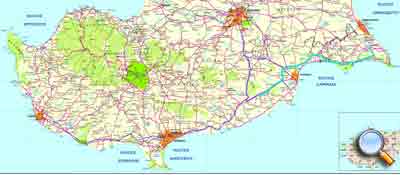 Neighboring Communities:
- Mennogia
- Αlaminos       
- Αlethriko
- Αnafotia         
- Μazotos        
- Pyrga              
- Κlavdia
- Κofinou
Paralimni – Agia Napa - Agglisides
Having the centre of Paralimni as your starting point, head towards the roundabout of Agia Napa and enter the highway leading from Paralimni to Larnaca. Drive past the exits to Agia Napa, Sotera, Liopetri, Xylofagou, Ormideia, Xylotympou, Pyla, Oroklini, Leivadia and Aradippou. Stay on the highway and drive under the uneven roundabout of Rizoelia. Continue driving straight until you reach the uneven roundabout of Kalo Chorio Larnacas and from there on head towards the highway leading from Larnaca to Kofinou. Drive towards Kofinou and past the exits to Klavdia and Alethriko and you will reach the gorgeous village of Agglisides within a few minutes.
It will take you approximately 40 minutes to drive from Paralimni to Agglisides. Consult the route marked on the map in light-blue colour.